Consumer VPNs: Paranoid Tech Tool or Must-have Security?
At one time, consumer VPNs were marketed as a way for journalists and hackers to hide their online activity from their ISP and the government. Today, business employees rely more and more on unmanaged home networks and unsecured public WiFi. Can these VPNs be used as a legitimate cyber-security product?
The risks are real
According to recent research by Symantec, an incredible 87 percent of consumers have potentially put their information at risk while using public WiFi – and more than half, 53% can't tell the difference between a secure or unsecure public WiFi network.
Man-in-the-middle attacks

As public WiFi connections are unsecured, potentially anyone can intercept your data. Without you ever knowing.

Illegitimate hotspots

Anyone can duplicate a public WiFi network so it appears to be a legitimate connection; tricking people who connect and harvesting vital information.

Eavesdropping

Hackers can eavesdrop on WiFi signals through unsecured public networks and monitor your activity and capture information – from viewing the web pages you visit, to stealing your login credentials.
How VPN services keep customers safe
Consumer VPNs encrypt all internet traffic, routing activity through their servers. Remote access VPNs only encrypt your connection to your cutosmers' office network, file server and workstations.
VPN services like Privatise Business VPN encrypt all traffic using lightweight client-side apps to route every user's internet activity via their own servers, instead of your customers' servers. This makes employees using public WiFi networks much more secure.
Choosing the right VPN service for your MSP
The trick is choosing the right VPN service. Managed IT Service Providers like you need a solution that's easy to deploy, easy to use, and easy to manage. Your VPN service should also understand your needs. When looking looking for a VPN solution, ask yourself:
How simple is the VPN to activate and deploy?
Can the VPN be easily deployed across a client's entire business?
Will the VPN integrate with your existing systems?
Are monitoring and usage tools available?
There are a lot of business VPN Service solutions available, but the vast majority have limitations that make them impractical for managing your SMB clients. Enterprise-grade solutions fare better but can be costly and incredibly difficult to configure for SMB environments outside of a LAN.
We built Privatise Business VPN from the ground up specifically to help MSPs meet the needs of their customers. It's rapidly deployable, scalable, easy-to-use, always-on and requires no usernames or passwords.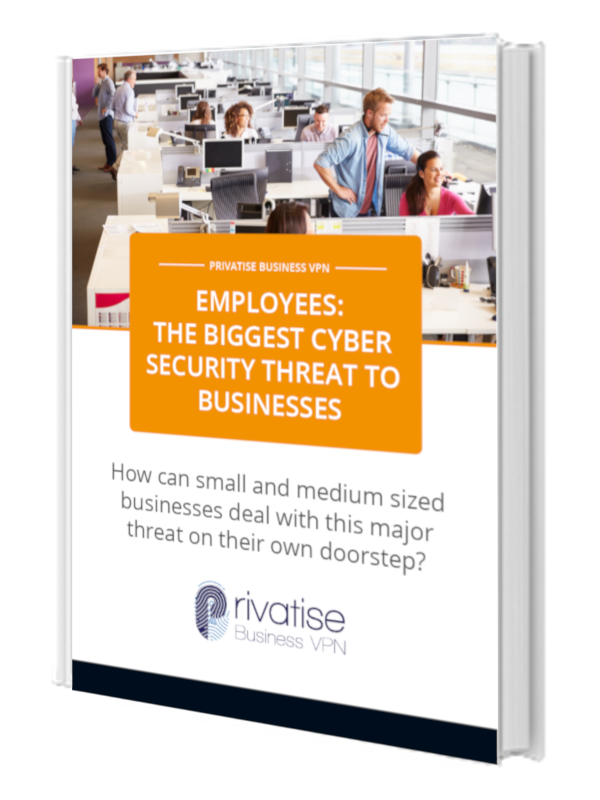 We examine how small business employees inadvertently undermine their companys' cyber security efforts and a VPN service like Privatise can help MSPs close the glaring hole in their clients' security.
{{cta('58f8e28a-f0ff-4caa-8b76-247d2d55c5b0′)}}