Privatise Business VPN: The online privacy solution for SMBs
Are you a managed Service Provider (MSP) looking for a VPN service for your small business clients?
Intrusion detection platforms, data encryption software, firewalls, anti-spam tools, VPNs; the cyber security software market is saturated with sophisticated products, but while the market has grown significantly and new solutions are introduced on a regular basis, many of these tools are designed primarily for individual consumers or large business enterprises.
Though you may be wondering: why?
It is down to demand. In the past, cyber criminals focused their attentions on consumers and large business enterprises. Back then, consumers had little knowledge of cyber threats and no idea how to configure security properly, making them easy targets, whilst large business enterprises had a wealth of valuable data that could be utilised by cyber criminals.
Nowadays, however, small and medium-sized businesses (SMBs) are increasingly at risk of cyber attack. Unlike large business enterprises that have are now protected by enterprise-grade security and consumers who have increased awareness of cyber threats, SMBs have neglected cyber security as most believe themselves too small to be targeted.
According to recent market research, 19% of UK small businesses have been targeted by cyber criminals between 6 and 10 times in the last year
Cyber criminals are aware of this delusion and taking advantage of inadequate availability of security solutions to attack SMBs. They know that the cyber security software market lacks bespoke solutions to deliver protection to SMBs – and they know that many SMBs believe they won't be targeted.
Statistics from our independent research report Under attack: Assessing the struggle of UK SMBs against cyber criminals, corroborate this assertion. The report reveals that more than half (56%) of the IT decision makers surveyed think that cyber security software has fallen behind the complexity of threats faced by small businesses – especially when that software is compared to the depth of security solutions available to large businesses.
As a result, many SMBs look to third-party providers or MSPs to manage their cyber security defences, including intrusion detection, threat analysis, anti-virus, firewalls and device management – but one area in particular, online encryption, proves to be particularly challenging.
VPNs for small businesses, a major challenge for MSPs
When it comes to online encryption solutions (more commonly known as virtual private networks (VPN)) the current VPNs for small businesses are limited indeed, and do not offer the functionalities SMBs need.
Instead, MSPs are faced with modifying consumer or enterprise-grade solutions – an approach that demands a considerable amount of time and resource. When an MSP has hundreds of clients all requiring online encryption services and support, modifying VPN solutions to meet client requirements is overwhelming.
Attempting to shoe-horn inappropriate consumer and enterprise-grade solutions to meet the needs of clients is completely impractical and requires too much time and investment on the part of MSPs. In addition, even once these solutions are configured, they still require continual management to ensure clients have ongoing online encryption and that new devices are authenticated and added correctly to the VPN network.
There is, however, a solution: Privatise Online Encryption.
Unlike existing consumer and enterprise-grade VPN solutions that are costly, time-consuming or complex, Privatise Online Encryption is designed to be as simple and seamless as possible.
Where MSPs would have previously spent days (in some instances, weeks) setting up a client's VPN/online encryption service, Privatise Online Encryption can be deployed to any number of devices in a short period of time. Rather than remotely connecting to a client's computer or device to install the software, an MSP simply needs to click on "Activate a Device" from within the app or send an email to a user which includes an authentication link. All of this is managed from a central master portal, so everything can be done seamlessly.
This solution also addresses the issues of ongoing device management and correct VPN usage that have troubled MSPs in the past. Privatise Online Encryption is always on – so MSPs never need to worry about if their clients are protected – and their clients don't need to worry about whether employees are using the solution. In addition to this, Privatise Online Encryption comes with built-in reporting for compliance, so MSPs can readily see how the solution is being used and present that information to their clients.
Finally, MSPs don't have to worry about encouraging clients to use secure usernames and passwords. Privatise Online Encryption authenticates devices using digital certificates and public key infrastructure (PKI) authentication – this means no usernames or passwords for your customers' end users!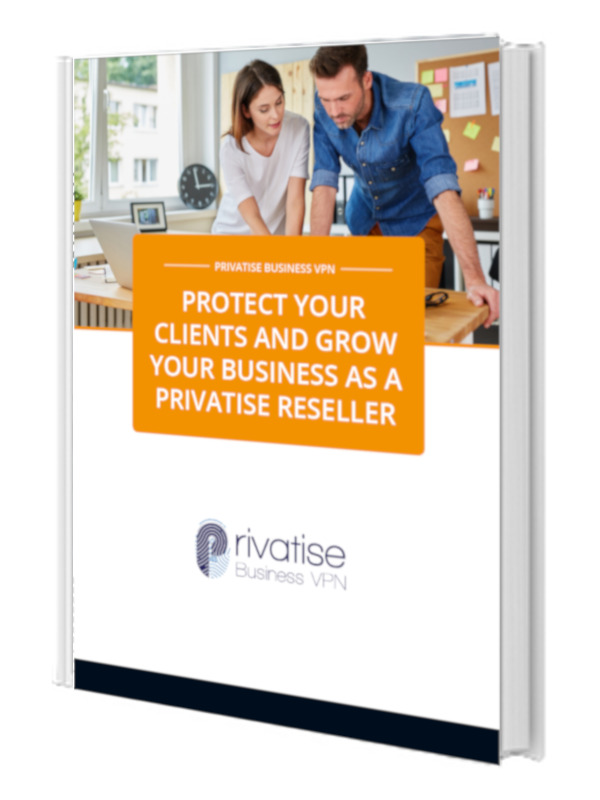 Privatise Online Encryption is the next logical step for MSPs looking to provide VPNs for small businesses. If you want to find out more about the Privatise Online Encryption solution, download our free eBook by clicking the button below:
{{cta('81b44d27-0df1-4b60-8ab0-226b3e914154′)}}