Three reasons why your clients' VPN isn't working the way they want it to
When it comes to security solutions, there's a tendency for smaller businesses to just install whatever they are recommended and leave it at that.
These businesses might purchase and install an enterprise-grade firewall solution, for example, but do nothing to actually configure it. It isn't until an IT specialist or managed service provider – such as yourself – takes a look that they find out that the firewall isn't working as intended or providing the necessary support.
The same applies to virtual private networks (VPNs). Having become an integral part of online security, encryption and privacy, most small businesses have some form of VPN in place – but little understanding of how they work, if they are working at all!
In this blog, we'll highlight some of the reasons why your clients' VPN might not be working effectively and what you can do to fix it.
1. It doesn't scale
Whether it is mobile devices, cloud infrastructure, or employees accessing servers from unsecure public WiFi, new technology and "flexible" work practices pose a potential security threat to a company.
There's no middle ground.
Often the easier option is to use a consumer-grade solution, but these solutions only support a certain number of users and have limited functionality.
To resolve the issue, you either have to purchase more device licences for your clients, or a scalable VPN solution. However, given the nature of today's workforce – one that is increasingly remote and mobile – it's just not practical or easy to use a consumer-grade VPN.
2. It's too complex to configure
This issue usually comes down to one or two reasons:
The small business lacks the expertise required to configure the VPN,
or
The VPN itself is too complex.
With cyber crime on the rise and the majority of business done online, it's never been more important for businesses to protect their data.
But unlike larger businesses that have dedicated IT departments, most small businesses have a single IT administrator. This IT administrator isn't 'qualified' per say and has to 'learn the job on the go'.
This can make setting up a VPN more difficult than it already is. Here's what the administrator needs to do:
Deploy and install the VPN to the network
Create a user and password (this will need to be done for other users as well)
Choose a target server
Configure the VPN to allow/block specific connections and traffic sources
Whitelist devices connecting to the network
And after all this, the administrator still needs to set up the VPN on employee devices. Additional licences will be required and users will need their own usernames and passwords.
Without the technical know-how, setting up the above could take weeks and even then, it might not be done properly. Not to mention the fact employees will likely forget or lose their passwords and not bother with the VPN due to its complexity.
In no business environment should a VPN be difficult to deploy and configure, regardless of how sophisticated it is. If it is, just how will business owners get their employees to use it?
3. It's missing critical features
Chances are, unless your clients are using a bespoke, enterprise-grade VPN solution, essential features and functionality will be missing.
By this we mean real-time device management, unlimited users, reporting and automated credential management. For most consumer-grade VPNs, these features do not come as 'standard' and while they may be present in enterprise-grade solutions, they are just far too expensive and difficult to set up.
Without these features, your small business clients will struggle to protect all employee devices, check who is using the VPN and when (hackers could infiltrate the network and your clients never know), and set up new users.
The best way to avoid the above issues is to actually provide your clients with a VPN solution that meets their needs. Your chosen VPN solution should be rapidly deployable, easy to use and configure, scalable, automated and feature-rich – at a minimum. Moreover, the VPN should include automated device authentication for new users (meaning no need to log in) and dashboards for your clients to see who is using the VPN and when.
All of the above is achievable with Privatise, the only business VPN built for small businesses. Want to find out more about how Privatise can provide the level of security and privacy your small business clients need? Just click here.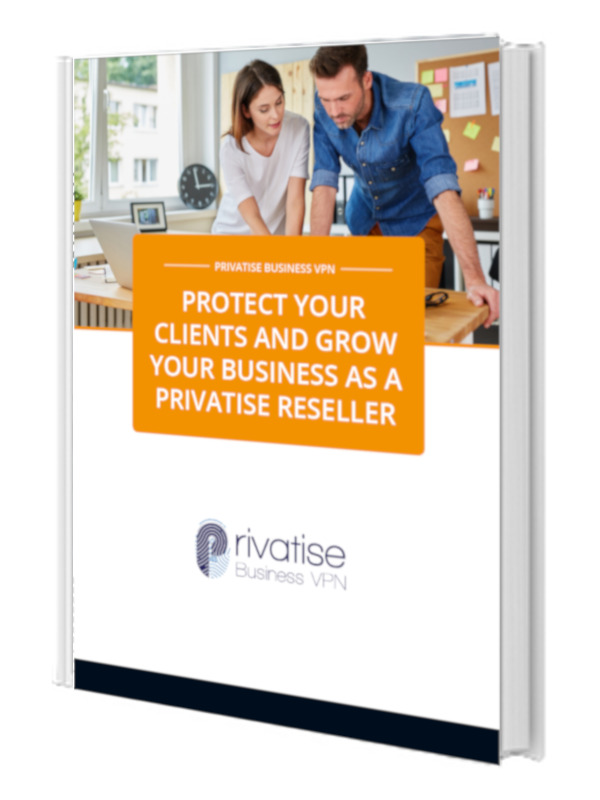 Alternatively, find out how you can use Privatise's Business VPN solution to ensure online encryption for your clients. Download our eBook "Protect Your Clients and Grow Your Business as a Privatise Reseller" by clicking here or the button below.
{{cta('81b44d27-0df1-4b60-8ab0-226b3e914154′)}}